Lindy Hop
Känns den engelska hösten regntung och jobbig?
Kanske sugen på en ny och rolig hobby? Prova på en trend vars popularitet har exploderat i  Sverige de senaste åren, och nu börjat få ett nytt fäste i England – Lindy Hop!
av Lina Lehn
Till tonerna av Duke Ellington virvlar de dansande paren runt i rummet. Atmosfären är vänlig och entusiastisk i danssalen på puben Good Gompanions i Brighton, där Lindy Hoppers lär ut dansen. De flesta är svettiga och har blossande kinder, men alla dansar glatt på i ett snabbt tempo. En helt vanlig lektion i swingdansen Lindy Hop.
Lindy Hop föddes i Harlem i New York i slutet av 1920-talet och är besläktad med Charleston. Dansens popularitet peakade på 30-och 40-talet och, men sen blev det tyst några decennier. På 80-talet fick dansen en revival och de senaste åren har mer och mer lindyklubbar, danskvällar och liveswing-konserter dykt upp i London och andra delar av England. I Sverige är dansen omåttligt populär och vi anordnar årligen världens största dansläger  – Herräng. Samtidigt finns det ett enormt intresse för vintagekläder, inredning och en fascination för 40 till 60-talet i som återspeglas i populärkulturen och TV-serier som Mad Men, The Hour och Pan Am.
Så vad är det folk gillar med Lindy Hop?
"Jag tror folk längtar efter lite gammaldags artighet i den kulturen vi lever idag," förklarar Amanda Walderman, som är lindylärare på Lindy Hoppers i Brighton. Hon och hennes danspartner Graeme Potter håller lektioner i Brighton varje vecka, samt anordnar lindysocials.
"Jag har alltid älskar swing sedan jag var liten, och det är en sund hobby där man dessutom får klä sig stiligt," säger Amanda.
Amanda och Graeme startade Lindy Hoppers för bara ett år sedan, men det är redan väletablerat i Brightons nöjesliv.
"Dansen är teknisk och utmanande, och samtidigt beroendeframkallande," säger Amanda.
"Det är lätt att lära sig grundstegen, men tar ett tag innan man får in känslan och rätt connection med sin partner. Men när man får det, så känns det fantastiskt!"
Så tveka inte att prova på hypen alla snackar om – det minsta man får ut av upplevelsen är en rolig och aktiv kväll i höstmörkret.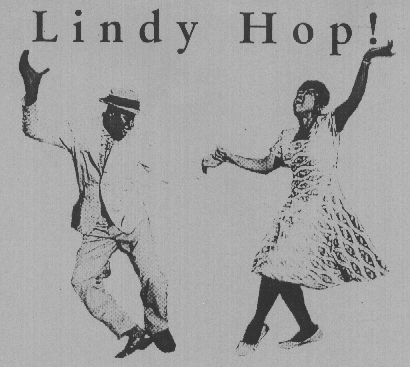 Gah, verkar askul! Var kan jag dansa?
London:
Lindy Hop i Brixton, nybörjarlektioner varje måndag 19.30 på Electric Social, 40 Acre Lane. Pris: £6 för en lektion, £8 för hela kvällen.
C-Jam, nybörjarlektioner på tisdagar kl 19.45  i The Ballroom, 77 Bedford Hill, Balham.
Liveband från kl 21.00. Pris: £10 för hela kvällen, £8 för studenter.
Brighton
Nybörjarlektioner:
Lindy Hoppers med Amanda och Graeme, varje måndag 19.30 på övervåningen på Good Companions, Dyke Road. Pris: £7 för hela kvällen.
Swingband live:
Swing Ninjas spelar varje onsdag kl 22 på Mesmerist, South Lanes. Gratis!
Läs mer om lindysocials och lektioner här:
www.swingland.com/